First phase of LNG-to-power complex draws $750M financing
8/22/2019
WASHINGTON, D.C., — EIG Global Energy Partners ("EIG"), controlling shareholder of Prumo Logística S.A. ("Prumo" or the "Company"), a private Brazilian company leading the energy infrastructure hub at Port of Açu, announced major developments at Prumo.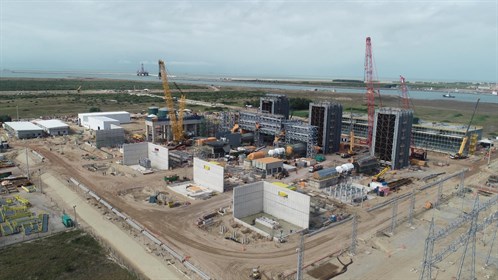 Among them, Gas Natural Açu ("GNA"), a joint venture among Prumo, BP and Siemens focused on the development and operation of sustainable energy and gas projects, has satisfied the conditions precedent required to draw on the previously announced US$750 million project financing led by IFC, KfW and the Brazilian National Development Bank.  GNA will apply the loan proceeds toward the completion of the construction of the 1.3 GW first phase of GNA's LNG-to-power complex ("GNA I").
Additionally, the development of the second phase of the complex, a 1.7 GW LNG-to-power project known as GNA II, is already underway and energy contracts have been secured.  Upon completion, GNA I and GNA II will have 3GW of installed capacity—enough to supply energy for up to 14 million households—making it the largest gas-to-power project in Latin America.
  GNA has a total licensed capacity of 6.4 GW and registered projects in the upcoming A-6 energy auction.  GNA I and the LNG import terminal are expected to start commissioning by March 2020.  In addition, GNA is developing offshore pipelines, gas processing facilities and a liquids export terminal for pre-salt gas, and onshore pipelines connecting Açu to the gas pipeline grid.  Total investment for the first two phases of the GNA LNG-to-power complex is estimated to be in excess of US$2 billion.
EIG also announced that Prumo has named three prominent industry veterans to its Board of Directors.  Pedro Parente, chairman of BRF and former president of Petrobras, has joined the Board together with Ieda Gomes, former President of Comgas and BP Brazil, and Franklin Feder, chairman of InterCement Participações and former President of Alcoa Latin America.
Mr. Parente said, "I look forward to serving this incredible company, the operator of the largest private port in Latin America.  Prumo and the Açu Complex represent critical infrastructure in unlocking Brazil's massive pre-salt reserves and will serve as a key enabler of the Brazilian new gas market ("Novo Mercado de Gás").  As a Brazilian, I'm proud to be part of this effort that will create meaningful social and economic development for Brazil and the region."
Carlos Tadeu Fraga, a leading expert in oil & gas with unparalleled industry knowledge, experience and relationships, recently assumed the role of Prumo CEO.  Under Mr. Fraga's leadership, Prumo has bolstered its management team with the recent addition of Luciana Rachid, former TBG CEO, as head of gas strategy.
Mr. Fraga said, "It is an honor to serve as Prumo's CEO and enhance the development of the Port of Açu, with its unique position as the only private gas hub in Brazil that combines LNG, domestic gas, liquids export, 6.4GW of power licenses and industrial gas-consuming projects in a single location.  Having spent my entire career helping Brazil develop its hydrocarbon reserves, including the pre-salt, I couldn't be more excited to lead the company that is the owner and developer of this outstanding infrastructure that supports the oil & gas offshore activities and consequently will boost industrialization in Brazil."
Açu, the largest port-energy-industry complex in Brazil, also includes an oil hub, strategically important for the export of pre-salt oil, as well as processing, blending and storage.  Açu Petroleo, a Prumo partnership with OilTanking, has attracted leading global oil and gas companies, including Shell, Petrobras, Galp and Equinor, as customers for its highly efficient oil transshipment terminal.  It is the only private terminal on the Brazilian coast, with 1.2 million bbl/day capacity, and the ability to receive Very Large Crude Carrier vessels ("VLCC").  The Company's expansion projects include oil pipelines connected to the grid and 5.5 million bbl of storage and oil treatment facilities to serve growing export volumes.
R. Blair Thomas, CEO of EIG and Chairman of the Prumo Board of Directors, said, "EIG is proud to support these incredible projects, and I am thrilled to welcome a new crop of talented industry leaders to the Board and management team.  Prumo's operating momentum continues to accelerate, as exemplified by its strong operating results and its ability to attract the industry's finest talent.  As Prumo's majority owner, EIG is gratified by the success of Prumo's recent strategic developments and commercial partnerships, and we are eager to continue to play a role in its dynamic expansion."