Regional Focus: Russia Ready to Control 20% of Global LNG Market by 2030
Russia plans to increase its annual LNG production to 140 MMtpy by 2035. This increase in production—part of Russia's plans to diversify natural gas supplies—will enable the country to increase its global LNG production market share to 20%. The implementation of these plans will be part of the existing long-term program for the development of LNG production in Russia.
The program also includes additional production of LNG equipment and machinery within Russia, the expansion of a resource base for LNG projects and the provision of economic incentives for exporters. The program eases the procedure of issuance of licenses for the development of gas fields, which serve as the resource base for LNG facilities in the country.
The primary resource base for LNG production in Russia will be the Yamal and Gydan fields—which were discovered by Rosneft—and the Tambey group of fields discovered by Gazprom.
In 2020, Russia produced 30.5 MMt of LNG, which is an increase of 3.5% from the previous year. Out of the LNG produced, 22 MMt were exported. According to Russia's LNG export plan, both production and LNG exports should significantly increase through the rest of the decade. Forecasts show that Russia's LNG exports could reach $150 B by 2030. The increase in LNG exports will be due to new LNG facilities under development primarily in the country's northern region. The construction of these plants are being led by Novatek and Gazprom.
Gazprom has announced plans to build at least two medium-tonnage LNG plants by 2025. These projects are the $2-B–$2.3-B, 1.5-MMtpy Vladivostok LNG terminal to be built in the Vladivostok region (Russia's Far East) and the $500-MM–$2-B, 500,000-tpy–1.5-MMtpy Chernomorsky LNG terminal on the Black Sea. The Chernomorsky LNG terminal will supply LNG to countries on the Black Sea and Mediterranean Sea, as well as to enterprises of the South and North Caucasian Federal Districts in Russia.
At present, Gazprom's LNG portfolio includes only one operating LNG plant—Sakhalin-2. The 9.6-MMtpy Sakhalin-2 facility receives feed gas from the Piltun-Astokhskoye and Lunskoye fields. The LNG plant plans to add a third LNG liquefaction train, which will increase Sakhalin-2's total production by 5.4 MMtpy.
Liquefaction technologies, equipment and logistics. Gazprom needs foreign gas liquefaction technologies for its LNG facilities since it does not have its own LNG technology. To combat this, the Russian government plans to invest more than $1.7 B on new technologies for the domestic LNG sector, as well as deepening localization of LNG equipment within the country. As part of these plans, Russia plans to establish a production sector to focus on producing at least 18 of the most critical types of LNG equipment.
In addition to new equipment, the country will invest in new logistics and transportation infrastructure that will be crucial for Russian LNG exports to major foreign demand markets. According to Russian Prime Minister Mikhail Mishustin, the existing state strategy involves the establishment of specialized logistics centers (hubs) in the Russian Arctic region. These hubs will focus on the transshipment, storage and trade of Russian LNG, as well as future deliveries to demand centers in Europe and Asia. This investment will help Russia compete against major LNG exporting nations such as Australia, the U.S. and Qatar.
Russia's primary focus is satisfying increasing demand for natural gas in the Asia-Pacific region. Russia plans to supply the region with LNG produced from its Arctic plants. One of the key players in this region is the privately-owned gas producer Novatek.
Novatek is actively developing its Yamal cluster, which includes its flagship 20-MMtpy Yamal LNG plant. At the time of this publication, nearly 80% of Yamal LNG output has been supplied to Europe. However, to increase natural gas supplies to Asia, Novatek is developing a transshipment hub on the Kamchatka Peninsula. Scheduled to be completed in 2022–2023, the hub will enable Novatek to store and send LNG via ice breaking marine vessels—Russia's Zvezda shipyard plans to build up to 15 icebreaking tankers for Russian LNG deliveries—to demand centers in Asia. The company is also developing the nearly 20-MMtpy Arctic LNG 2 project. Located on the Gulf of Ob across from the Yamal LNG facility (FIG. 1), the three-train LNG plant is scheduled to begin operations in 2024–2025. GP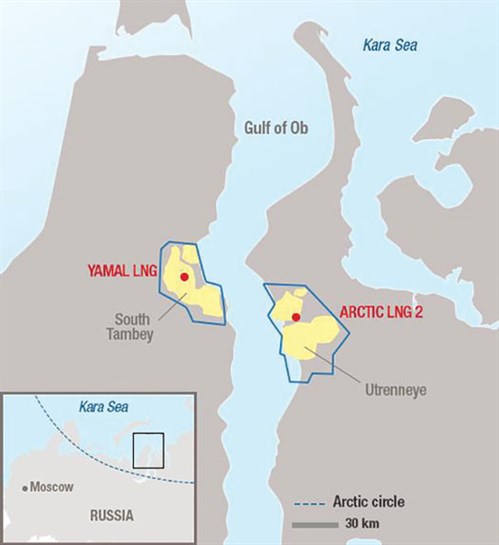 FIG. 1. The Arctic LNG 2 plant lies on the Gulf of Ob across from the Yamal LNG export terminal. Source: TotalEnergies.
EUGENE GERDEN is an international contributing writer specializing in the global oil refining and gas industry. He has been published in a number of prominent industry publications.