Regional Focus: South Africa's transport strategy to shape country's gas sector
South Africa's Gas Utilization Master Plan outlines how the gas sector will be developed. As the country proceeds with the plan, the role of the government-initiated Gas Transport Strategy (GTS) in maximizing the benefits of compressed natural gas (CNG) and compressed biogas (CBG) is likely to be given prominence in the nation's medium-term economic development plan.
The GTS for 2018–2050, which was launched by the Department of Transportation with the objective of decreasing greenhouse gas (GHG) emissions in South Africa's transport sector by 5% by 2050, is expected to drive development and trade in the country's gas industry in the long term, even as the country strives to achieve its international obligations in lessening the impact of climate change.
South African President Cyril Ramaphosa said in his 2020 state of the nation address in February that the government is finalizing the Climate Change Bill, which "...provides a regulatory framework for the effective management of inevitable climate change impacts by enhancing adaptive capacity, strengthening resilience and reducing vulnerability to climate change—and by identifying new industrial opportunities in the green economy."
According to South Africa's National Development Plan 2030, the transport sector contributes 9% to the country's total emissions. This contribution will be addressed through improvements in vehicle efficiency and standards, promotion of public transport, integrated transport planning, and a potential increase in biofuel content in fuel requirements.
These measures are in addition to planned expansions in public transport and rail freight infrastructure, promotion of electric and hybrid vehicles through public-sector investment in product development, and non-motorized transport and cycling.
Transport plan seeks to cut pollution, boost gas. With the GTS, South Africa is not only eyeing a reduction in emissions but also creating additional commercial opportunities for the utilization of its gas resources. The country is promoting the sustainability of public transport vehicles and cutting down on general transportation costs.
The GTS encompasses 10 segments. One of them is the use of alternative fuel sources, such as CNG (FIG. 1), despite South Africa not producing natural gas of its own. At present, the country, which has gas demand of 180 Bft3, relies on 140 Bft3 of imported natural gas from Mozambique. The gas is imported by South African chemical giant Sasol through an 865-km gas pipeline.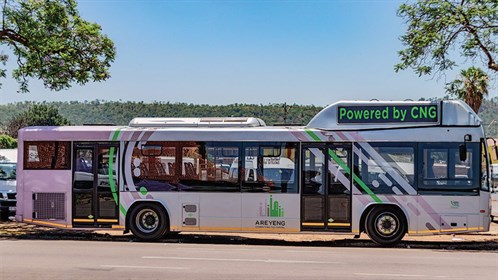 FIG. 1. The use of CNG fuel in transportation, such as this CNG-powered bus, is anticipated to reduce emissions in South Africa by up to 30%.
 An additional 40 Bft3 of gas is produced in the now-maturing FA-EM and South Coast gas fields. All the production is sent to the Mossel Bay GTL facility owned by state firm PetroSA. Mossel Bay has a nameplate capacity equivalent to 45,000 bpd of crude oil, but is operating below capacity because of falling feedstock supply.
The Central Energy Fund, with which PetroSA is affiliated, says the gas reserves supplying Mossel Bay are close to depletion and are expected to run out by December 2020. A sustainable techno-economic, long-term solution for the GTL plant has not yet been found.
South Africa hopes to fast-track delayed natural gas projects, such as the F-O field (also known as the Ikhwezi project), the E-BK project and the Ibhubesi natural gas field, to not only sustain operating projects such as Mossel Bay but also to meet anticipated demand when the GTS gains momentum.
Converting the public transport fleet. It is estimated that the use of CNG fuel in transportation will reduce emissions by up to 30%. As such, CNG could serve as a transition fuel to stimulate biogas production by developing a potential offtake market.
The success of South Africa's GTS will be influenced by proposed legislative changes by various government agencies, including the Department of Transport and local municipalities. For example, the Department of Transport is pushing for draft regulations that require at least 10% of municipal bus fleets to be converted yearly to cleaner technologies or cleaner fuel. The conversion would enable them to use both CNG and conventional fuel.
In addition, the government has proposed a vehicle taxation scheme that would be based on a vehicle's emissions standards. The proposal provides for taxation through car licensing renewal or during the sale of a new car. Furthermore, all government public service vehicles with access to biogas should be compelled to use biogas as an alternative fuel, according to the Department of Transport proposals. The state is also wooing the private sector to invest in the GTS. GP
Shem Oirere is a freelance journalist based in Nairobi, Kenya. He has spent more than 10 yr covering various sectors of Africa's economy, and has had numerous articles published in several international publications and websites. He earned a higher degree in journalism from the London School of Journalism, and is also a member of the Association of Business Executives (ABE).