Industry Focus: Russia Accelerates Fight For Global Gas Export Market Share
Russia aims to ramp up its efforts to gain more gas export market share this year, despite an unfavorable business environment and growing pressure from major competitors.
The beginning of 2020 was a tough time for Russian gas export monopoly Gazprom, which saw its revenue for January exports fall by 41.1% on a year-on-year basis, barely exceeding US$3 B. The drop in export revenue, which was largely due to a decline in global gas prices, marked a significant decline for the company after several years of consecutive growth in exports.
That had a negative impact on Gazprom, since almost 57% of its long-term contracts were conducted on the spot market. According to analysts, present spot prices barely allow the company to cover its operating costs for production and exports.
The low prices are the result of a significant drop in demand for gas in Europe, caused by relatively warm winter weather and the ongoing spread of the novel coronavirus, COVID-19, on a global scale. The glut of LNG supply on the global market puts additional pressure on prices.
In February, the UK's Financial Times reported that due to the novel coronavirus, China's leading energy enterprises—including China National Offshore Oil Corp. (CNOOC), Sinopec and China National Petroleum Corp. (CNPC)—are considering termination of long-term LNG supply contracts with major producers.
Analysts predict that global gas prices will continue to decline within the next several months since, like the oil sector, the present level of supply in the gas market significantly exceeds demand. The increase in gas supplies is also due to the commissioning of new gas pipelines in Europe, including the Azerbaijani–Turkish TANAP, the Russian–Chinese Power of Siberia, the Turkish Stream Pipeline and others.
Pipeline victories and losses. The official launch of Turkish Stream, a natural gas pipeline running from Russia's territory to Turkey, took place at the beginning of 2020. The official commissioning of Nord Stream 2 was initially scheduled for the beginning of 2020; however, US sanctions pressured the contractor of the project, Swiss Allseas, to leave Nord Stream 2 and remove its vessels from the construction zone in the Baltic Sea. Allseas is expected to be replaced in the project by Russian pipe-layer Akademik Chersky.
Amid ongoing tensions between Russia and Ukraine, the Nord Stream 2 pipeline would have provided a direct conduit for Russian gas to the key market of Germany and ensure an annual gas supply volume of 55 Bm3 to EU customers. That export opportunity is now delayed.
Conflict between Russia and the West for control over gas export routes has been ongoing since the 1990s. At that time, the West made serious attempts to block supplies of Caspian gas to the EU market via Russia. This pressure led to the 2014 cancellation of Gazprom's South Stream project, which was later replaced by the Turkish Stream project.
Turkish Stream is the second large-scale gas pipeline project to be launched by Russia in recent years, after the Power of Siberia pipeline (FIG. 1). Power of Siberia, which began operations in December 2019, will allow Russia to export 38 Bm3y of gas to China over a 30-yr period. The pipeline is expected to reach full capacity by 2024, after the launch of a second stage that will connect it to Russia's large Kovykta gas field.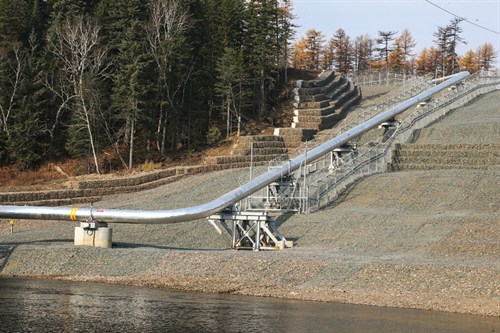 FIG. 1. The Power of Siberia pipeline delivered the first pipeline gas supplies from Russia to China on December 2, 2019. Photo: Gazprom.
In the meantime, the US and parts of the EU continue to pressure Russia's gas export plans, providing support to competing gas routes that bypass Russia. An example is the Trans-Caspian gas pipeline project, which is a proposed subsea pipeline between Türkmenbaşy in Turkmenistan and Baku in Azerbaijan.
Another serious threat to Gazprom's further domination of the EU market may come from Israel and its East Mediterranean gas pipeline project. The project involves building a gas pipeline from Israel to Italy and the countries of southern Europe.
Finally, the idea of forming an energy corridor in the East-West direction remains popular. Previously, it was implemented in the form of the Nabucco gas pipeline project, which was supposed to run from Azerbaijan to Austria and Germany, with Turkmenistan gas being considered as a potential resource for the pipeline. The Nabucco project was suspended in 2013.
Analysts predict that Gazprom will face problems in the EU market for years to come, despite the successful launch of the Turkish Stream and Power of Siberia pipelines. A number of Russia's contracts with major customers expire in the next few years. For example, Poland's PGNiG plans to cease purchases of Russian gas after 2022 in favor of pipeline gas from Norway and LNG from the US.
Russia seeks firmer LNG footing in Europe. Analysts believe that both the US and Russia will remain major players in the EU's LNG export market in years to come. Russia's advantage is that its LNG is generally 10%–15% cheaper than US LNG, due to logistical issues. However, the US could impose more sanctions as a means of non-market competition to limit Russia's LNG market in Europe, which could discourage some EU nations from relying on Russian gas.
At present, Gazprom's portfolio includes long-term contracts with customers from Italy and Germany, although the continuing price decline and the growing volumes of LNG to the global market will continue to pressure Gazprom's EU business. To prevent a further reduction in its share of the EU market, the company is discounting cargoes for some of its major customers in the EU.
Despite present stagnation in the global LNG market, Russia does not plan to revise its export volume. In 2019, Russia increased its LNG exports to 28.6 metric MMt from 18 metric MMt in 2018. By 2025, the country plans to export 70 metric MMt of LNG.
Novatek, Russia's largest privately-owned gas producer, believes that despite the pressures of competitors and the novel coronavirus, Russia will be able to increase its total gas exports by 30% within the next several years to 550 Bm3y. Of this volume, pipeline gas is expected to account for 330 Bm3y and LNG will make up 220 Bm3y. GP
Eugene Gerden is an international contributing writer specializing in the global oil refining and gas industry. He has been published in a number of prominent industry publications.