Regional Focus: Singapore moves closer to becoming a global LNG trading hub
E. Gerden, Contributing Writer
Amid strong demand for LNG in the Asia-Pacific region and the need to secure regular gas supplies on a large scale, Singapore may become a major regional hub for LNG trade. The Asia-Pacific region accounts for approximately 70% of global demand for LNG, at present. This share will continue to grow over the next 10 yr–15 yr.
Despite being the world's largest consumer of LNG, the Asia-Pacific region does not have a central trading hub for the fuel. Historically, this has worked to keep import prices high for Asia-Pacific buyers, alongside the industry's traditional preference for long-term contracts linked to oil pricing.
More active spot sales of LNG on existing trading platforms in the Asia-Pacific region will help change this situation. One such platform is Singapore's GLX, which was established in 2016 and which, for a short period of time, became one of the world's most convenient exchanges specializing in LNG sales. Demand for LNG contracts with volumes smaller than 1 metric MMtpy has significantly increased in recent years, and this trend is forecast to continue.
The popularity of Singapore (Fig. 1) as a center of global LNG trade is growing. The city-state has already established itself as a regional center in commodity and oil trading, overtaking Shanghai. The next step for Singapore is to secure its status in the global LNG market, which many analysts believe is feasible over the short term.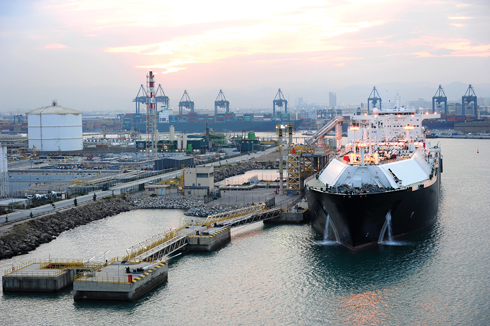 FIG. 1. The port of Singapore, a future center of global LNG trade and bunkering operations.
LNG infrastructure expansion plans. Singapore is located between the Indian and Pacific Oceans, in the heart of Southeast Asia. The majority of traders consider this location to be ideal in terms of logistics, as it provides an opportunity for centralized storage of LNG containers and organizing shipments to neighboring countries such as India, Malaysia, Indonesia, China and others.
Singapore has been working to expand the infrastructure necessary for importing large volumes of LNG. The country has one LNG terminal in operation, the Singapore LNG (SLNG) terminal (Fig. 2). The capacity of the terminal is 6 metric MMtpy at present, but plans are in place to double it to 11 metric MMtpy in 2020. SLNG also has a storage capacity of 564,000 m3 that allows traders to store gas when consumption is low and sell it during times of peak demand. A fourth storage tank, which will add around 260,000 m3 of capacity, is expected to be in service by the end of 2019.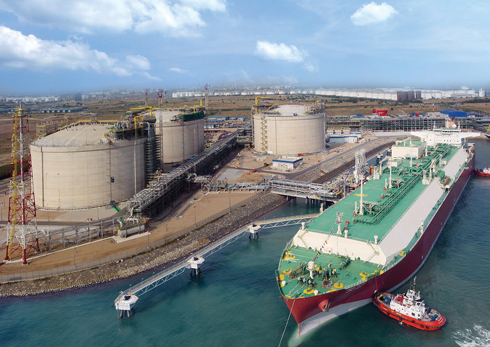 FIG. 2. The SLNG terminal is building a new jetty to accommodate smaller-volume LNG ships.
SLNG is also completing the modernization of its secondary jetty, initially designed for vessel sizes of 60,000 m3–265,000 m3, to accommodate smaller ship sizes of 2,000 m3–10,000 m3. Small vessels can be used to send LNG into the region after break-bulking, or for ship-to-ship LNG bunkering. The number of LNG-fueled vessels is limited at present, but that will change in the future as the International Maritime Organization imposes a 0.5% sulfur cap for marine fuels by 2020. Furthermore, plans for a second LNG terminal, in eastern Singapore, are in the works. This terminal will enable further spot imports of LNG into the region.
The growing trading market. Pavilion Energy and Shell Eastern Petroleum (a subsidiary of Royal Dutch Shell) are the major LNG importers to Singapore. The companies won the right in 2016 to supply Singapore with LNG, and received their LNG importer licenses in 2018. Under these licenses, the companies have exclusivity to market LNG for 3 yr, or up to 1 metric MMtpy, whichever comes first. Other importers may be allowed to carry out limited-volume spot deliveries.
Pavilion Energy will be initially focused on the delivery of small LNG volumes to the Philippines and Indonesia, and then throughout the entire Southeast Asian region. The company will use a fleet of small LNG tankers with carrying capacities of around 10,000 m3 each. Unlike the US or Europe, Southeast Asia has many small LNG customers on remote islands where energy consumption is growing. Therefore, the shipment of small, regular volumes of LNG is preferred.
For the development of bunkering operations at the Singapore port, KS Investments (a subsidiary of Keppel Offshore & Marine Ltd.), in partnership with BG Group, has won a tender for the construction of a large-scale LNG bunkering complex at the port of Singapore.
Future LNG import sources. Singapore has traditionally imported LNG from Australia; however, this will change as East African LNG exports ramp up. By 2020–2021, Singapore aims to become a leading importer of LNG from the region, particularly Mozambique and Tanzania. The two countries have made significant investments in developing their gas reserves in recent years.
According to reports by African media, more than US$30 B will be invested in Mozambique's natural gas sector to produce 20 metric MMtpy of LNG, with first exports due to start in 2019 or 2020. Concurrently, Petroleum Development Corp. plans to construct an LNG plant in Tanzania with the capacity to process 10 metric MMtpy of gas; the terminal is scheduled to be completed by 2020. The two facilities are anticipated to meet a significant portion of Singapore's LNG needs in the future. GP
Eugene Gerden is an international contributing writer specializing in the global oil refining and gas industry. He has been published in a number of prominent industry publications.