Regional Focus: Nigeria moves to expand its liquefaction capacity
The award in July 2018 of long-awaited contracts for the front-end engineering design (FEED) of Nigeria's Train 7 gas plant expansion project to two consortia is the country's latest attempt to address the enormous challenges of gas flaring and gas shortages for power plants and domestic consumption.
The contract for the 8.5-MMtpy Train 7 at Nigeria's LNG complex on Bonny Island (Fig. 1) was awarded to the B7 JV consortium and the SCD JV Consortium by Nigeria Liquefied Natural Gas Ltd. (NLNG), which is owned by Nigerian National Petroleum Corp. (NNPC), Shell Gas BV, Total Gaz Electricite Holdings France and Eni International.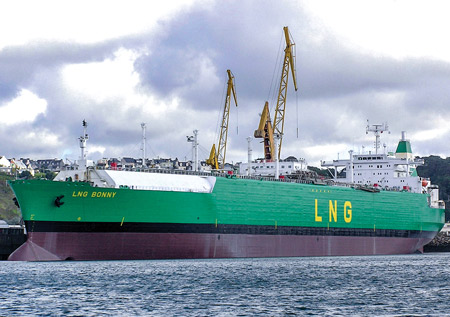 Fig. 1. An LNG tanker owned by Bonny Gas Transport, a subsidiary of NLNG. More LNG production is expected from the Bonny Island LNG plant after the Train 7 project is completed.
The successful completion of Train 7, estimated to cost $12 B, will not only increase Nigeria's LNG output from 22 MMtpy to slightly more than 30 MMtpy, but it will also provide a sustainable use for the large volume of gas flared in Nigeria, estimated at 8 Bm3y.
Bonny Island LNG expansion. NLNG, which owns the six-train gas plant on Bonny Island and anticipates a $25-B investment in the country's gas sector over the next 10 yr, expects the completion and commissioning of Train 7 to utilize more of the country's wasted natural gas. Other goals include expanding its liquefaction capacity and gas pipeline network at a time when Nigeria is attempting to remove itself from the list of the highest-flaring nations in the world.
NLNG, which has generated more than $25 B in revenue for the government of Nigeria, in mid-2018 selected the Bonny 7 JV consortium, led by US-contractor KBR, for the basic design of Train 7 and the engineering, procurement and construction (EPC) proposal for the project. Other partners are France's TechnipFMC and Japan Gas Corp.
KBR was earlier involved in the development of the Bonny Island liquefaction complex, having constructed the 4-MMtpy Train 6 and associated infrastructure, such as LNG storage, offsites and utilities. The US contractor also constructed Trains 1–5, with a combined capacity of nearly 18 MMtpy. NLNG has picked the SCD JV consortium as the second contractor for the same FEED and EPC proposal contract. The consortium is led by Saipem and includes partners Chiyoda and Daewoo.
A final investment decision for the Train 7 project had been expected in late 2018, but it has been delayed to 2019. NLNG managing director and CEO, Tony Attah (Fig. 2), told media in July 2018 that although a FEED contract is normally completed within 9 mos–12 mos, NLNG opted for a dual FEED process by awarding the assignment to two prospective engineering consortia, instead of one contractor, to give a degree of freedom to start FEED and then EPC bidding, with both activities overlapping.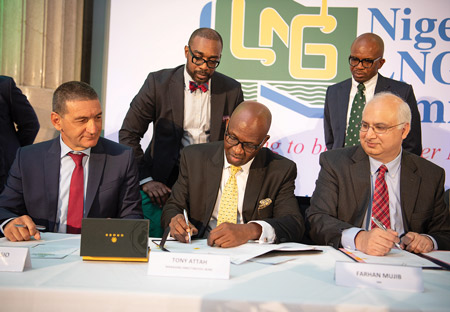 Fig. 2. NLNG Managing Director Tony Attah signs a FEED contract agreement for Train 7 at the Bonny Island LNG complex. Photo courtesy of NLNG.
The two consortia will not only carry out FEED for Train 7, but will also prepare the EPC proposal for the project to expand the six existing LNG trains and associated facilities. The complete Train 7 liquefaction train will be a replica of the existing Train 6 and will feature a new, common liquefaction unit for processing excess treated gas from the existing trains into LNG.
Expansion benefits and other projects. If Nigeria, with estimated proven and unproven gas reserves of 187 Tft3 and 600 Tft3, respectively, achieves the planned ramping up of its annual LNG production with the successful completion of the Train 7 project, the country will likely mitigate its electricity supply constraints. The supply shortages have been linked to deficiencies in gas supplies due to low production, economic disincentives, inadequate infrastructure and theft.
Although Nigeria has an installed power capacity of approximately 12,522 MW, 85% of which is powered by gas, only 3,879 MW are operational since the gas shortages, lack of maintenance and constrained transmission capacity make unavailable a large share of this nameplate capacity. This scenario leaves nearly 55% of the West African country's population without access to grid-connected electricity.
Alongside the liquefaction capacity expansion plans, Nigeria is laying new gas pipelines and revamping existing ones to utilize more of its gas and reduce flared volumes. Between 2012 and 2015, Nigeria reduced its volume of flared gas by 2 Bm3 and increased supply to the domestic market from 500 MMft3d in 2010 to 1,500 MMft3d at present. NLNG also supplies 40% of the country's cooking gas.
Construction of the 127-km Obiafu-Obrikom-Oben (OB 3) pipeline project is ongoing to connect the eastern and western regions of Nigeria. Also, the 614-km Ajaokuta-Kaduna-Kano pipeline will deliver gas to electricity-generating plants, particularly in the north.
Although many of the multibillion-dollar infrastructure projects planned for Nigeria will likely take a long time to be realized or break ground, the involvement of reputable international contractors in the Train 7 NLNG project raises hope that the country will soon achieve much-needed additional LNG production. GP
Shem Oirere is a freelance journalist based in Nairobi, Kenya. He has spent more than 10 yr covering various sectors of Africa's economy, and has had numerous articles published in several international publications and websites. He earned a higher degree in journalism from the London School of Journalism, and is also a member of the Association of Business Executives (ABE).