EWAnalysis: US LNG producers eye major growth
EWA Staff
The US LNG market has experienced rapid growth over the past decade due to the availability of inexpensive feedstock and increased worldwide demand. The shale boom in the US has turned the country into a major exporter of natural gas and LNG. Due to technological advances like horizontal drilling and hydraulic fracturing, the US has significantly increased its own production over the past decade.
According to the US Energy Information Administration (EIA), the US has been the leading natural gas producer globally since 2011. US LNG export capacity will reach 8.9 Bft3d by the end of 2019, according to the EIA, making it the third-largest LNG exporter in the world behind Australia and Qatar. US LNG export capacity ended 2018 at 4.9 Bft3d as two new liquefaction trains became operational (Fig. 1). The growth of the LNG export industry will be defined by export capacity, market potential and political considerations.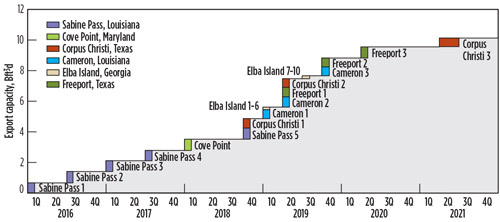 Fig. 1. US LNG export capacity, 2016–2021. Source: US EIA and company investor presentations.
LNG export capacity in operation. Most existing North American LNG import/export terminals are in the US. Many of these import terminals are expected to be converted to export facilities over the next few years. The following subsections provide details on operating LNG terminals in the US.
Sabine Pass LNG. Owned by Cheniere Energy Partners, the Sabine Pass project has five trains in operation. The fifth train came online in March 2019, with first commercial delivery expected in August 2019, and the sixth train is now under development. The Sabine Pass site can readily accommodate up to six liquefaction trains capable of processing more than 3.5 Bft3d of natural gas. Cheniere Energy Partners has entered into a sale-and-purchase agreement with Malaysia's Petronas for approximately 1.1 MMtpy of LNG from Sabine Pass for a term of 20 yr.
Cove Point LNG. Dominion/Cove Point LNG is located in Cove Point, Maryland. It is a single-train LNG facility, with both import and export terminals attached. The export capability from Train 1 is 0.59 Bft3d. It has been in operation since February 2018, with commercial deliveries beginning in March of that year.
Kenai LNG. Owned by ConocoPhillips, Kenai LNG—the longest-operating LNG terminal in the US—has an export capacity of 0.2 Bft3d.
Corpus Christi LNG. Owned by Cheniere Energy, Corpus Christi LNG is the first completely greenfield LNG export facility in the US. It will have three trains, each with an output capacity of 0.6 Bft3d of LNG. Train 1 came online in December 2018, several months earlier than expected. The first commercial gas delivery is slated for June 2019. Train 2 is undergoing commissioning and is due to come online in 2Q 2019. Train 3 is expected to be completed in May 2021, and more phases are in the planning and FEED stages.
Planned LNG projects. Several more LNG projects are either announced or planned for construction in the US, as detailed in the following descriptions.
Elba Island LNG. Elba Island LNG is located on Elba Island near Savannah, Georgia. Owned by Kinder Morgan, this brownfield plant (originally an LNG import facility) is in the process of commissioning Trains 1–6, each of which has a baseload nameplate capacity of 2 Bft3d. Train 7 and three other proposed trains are under construction. Trains 1–6 are expected to be in service in 2Q 2019. Train 7 has an estimated in-service date of 4Q 2019.
Freeport LNG. Similar to Elba Island, the first phase of the Freeport LNG project transformed the existing LNG import terminal into an LNG export facility. Three trains, each with a baseload nameplate capacity of 0.66 Bft3d, are included in the first phase. Train 1 is undergoing commissioning and is expected to go online in September 2019. Train 2 is expected online in January 2020, and Train 3 is estimated to start up in May 2020.
Cameron LNG. Cameron LNG, located outside of Hackberry, Louisiana, will consist of three liquefaction trains with a nameplate total capacity of approximately 13.5 MMtpy (1.8 Bft3d of LNG. Train 1 is being commissioned and is expected to be in service by 2Q 2019. Trains 2 and 3 are under construction, with a projected in-service date for Train 2 of 3Q 2019 and for Train 3 of 4Q 2019.
Port Arthur LNG. Sempra Energy's LNG plant in Port Arthur, Texas is getting closer to construction. Port Arthur will include two liquefaction trains, three LNG storage tanks, the Texas Connector pipeline and the Louisiana Connector pipeline. When completed, Port Arthur LNG will produce about 13.5 MMtpy (1.8 Bft3d) of LNG. The US Federal Energy Regulatory Commission recently issued a final environmental impact statement (EIS) for the project.
Rio Grande LNG. Located at the port of Brownsville in South Texas, the Rio Grande LNG project is part of the "second wave" of US LNG export facilities. This facility and its associated Rio Bravo Pipeline are expected to receive approval on July 25, 2019. In early April, Rio Grande and Shell announced a 20-yr, 2-MMtpy supply agreement. Rio Grande also has an agreement to supply LNG to the power grid of Cork, Ireland.
LNG industry future. As US LNG export capacity surpasses 10 Bft3d by 2023, prices will continue to be pressured. However, as long as prices remain above a notional floor (i.e., the point at which the production of LNG becomes uneconomical), the industry will continue to expand.
The biggest market for US LNG is Asia. China and India have become major importers of LNG, as has Japan in the wake of downsizing its nuclear fleet. Major competitors to the US are Australia, Qatar and Russia. Australia has three LNG liquefaction and export facilities in operation with a total production capacity of 24.1 MMtpy. Six more LNG production projects are under development in Australia with a total production capacity of 61.1 MMtpy.
Shipping time has been important to profitability in the LNG export market. The voyage from Louisiana to Japan via the Panama Canal takes about 40 d. By comparison, the same shipment from Australia to Tokyo takes 9 d–12 d, a significant time advantage. Qatar has similar advantages when shipping to India and western Asia. However, robust growth in the LNG spot market is allowing US companies to buy and deliver LNG shiploads from and to many different destinations.
However, political considerations continue to cloud the future of the LNG industry. Instability in Russia and Ukraine, along with economic sanctions by the US and other western nations, could hamper Russia's ability to become a global LNG exporter. Tariffs levied by the US and China on each other have made US LNG exports to China—the world's largest LNG customer—problematic. Additionally, environmental concerns in some US states over hydraulic fracturing used in drilling shale gas could hamper progress in certain areas.
Regardless, the US has become a world leader in LNG exports in a very short time. Assuming no great political or environmental upsets, the outlook for the US LNG market is highly positive. GP